Christmas Newsletter 2021
Fortunately, we were able to get back to some normality this season and we opened the Gardens on 20th March with a one-way system, and other safe guarding measures.  The spring weather was challenging with many unusual late frosts for Cornwall during April and a rather soggy May.  On the whole though, we had a good season with many more visitors, who were glad to get out and enjoy the flowers, listen to the birds & bees in a relaxing atmosphere.  Also, by popular demand we were able to open the tea hut with homemade cakes on the 19th July.  Our plant nursery also proved popular and kept us busy propagating stock from the garden, and renewing the sales area on a daily basis.  This year the RHS launched a RHS Partner Garden of the Year Competition for visitors to vote for their favourite RHS Partner Garden with the theme 'Feel Good Gardens' in recognition of the positive impact gardens have had on our physical and mental wellbeing.  We were delighted and proud that we have been voted the Regional Winner in the South West and Wales and therefore a finalist in the national competition.  This makes all the hard work worthwhile and thanks to all those visitors who voted for us.  In early December, Jonathan Webster, Curator, RHS Garden Rosemoor, presented us with an oak plaque for us to display (1st photo).
Unfortunately, Caroline our main help, who had been with us for nearly 14 years had to leave because of back problems.  We shall miss her helpful and cheerful ways.  However, she will pop by regularly to see us, tend her little vegetable plot here, and may hopefully return at some stage for less physical work.  We are now glad to have a trainee gardener, Jane, who has come to us under the WRAGS scheme (work and retrain as a gardener scheme).  We provide part-time employment and horticultural training with practical skills in a working garden.  Jane has settled in well and is keen to develop her horticultural knowledge, whilst tackling much of the work load at the same time.
A highlight for us was a visit to the rescheduled Chelsea Flower Show in September (2nd photo). It was a change to have an autumn colour palette with tawny grasses, bright Dahlias, yellow Rudbeckias, and orange Heleniums.  As well as seeing all the lovely plants, the stands selling other garden items took our attention and we treated ourselves to two very large terracotta pots (3rd photo).  We were away for five days and had an exciting time visiting many gardens, nurseries, and the national collection of Polypodium ferns in the South East.
In our Garden, after the initial sea of blue from 'Forget-me nots', we enjoyed a refreshing display of yellow tulips and wallflowers with a backdrop of the Cherry blossom during April (4th photo).  In the 'four square' beds we have added some purple Alliums for May, which also have good seed heads later on.  These go well with early flowering perennial cornflowers, columbines, and cat mint.  Later we edge these beds with white annual Alyssum), which flowers all summer and has a honeyed scent (5th photo).  The many herbaceous perennial gave us our usual array of colour across the beds and in our collection display rows.  It's the abundance of colour and the plant labelling that gets the most positive comments from our visitors.  This year the half-hardy Salvias gave us an extra surprise, they started flowering very early and then profusely, reaching their peak at the end of the summer with their amazing diversity of colours, including true blues.  We have them in a raised bed with extra drainage, which they love. (6th photo).
Happy Christmas and we hope you have a good New Year.  See you soon?? Tricia and Peter
2020 Season Opens with Snowdrops in February
It's an exciting time at Hidden Valley Gardens at the start of the new season, our second season as an RHS Partner Garden.  The weather is currently helping with preparations with even more planting taking place.  Two lorry-loads of green waste compost are being delivered at this time and being used to mulch all the beds.  The growth of many plants started extra early although not always a good thing (thinking back to the 'beast of the east' in 2018). We hope you are able to come early in the season (open daily from March 20th) as there is lots of early season colour and interest – remember the entry ticket of £5 is also a season ticket – enjoyed by our 'regulars who come monthly to enjoy the changes though the season.  The plant sales area includes many plants propagated from the garden.
Hidden Valley Gardens Christmas Newsletter 2019 
Compared to last year's hot and dry weather, this year's summer has been more conducive to our plants and what a wonderful year for fruit.  Our Shropshire Prune Damson was laden; the fruits have a lovely blue bloom with a delicious yellow flesh inside.  We spent much time picking these, along with plums, apples, raspberries, and blackcurrants for the freezer.  There were still lots for our pick-your-own customers. The birds also had their fill and now leading up to Christmas, they have the hedgerows with lots of bright red holly berries, to feast on.
Thinking of the colour red, the first bed our visitors see is our 'hot colour' border with lots of bright red oranges and yellows.  This year it has been particularly good with flowers all season, amongst shrubs with deep purple foliage and bronze leaf fennel. There are Heleniums in marmalade colours, with a dark central cone, graceful Crocosmia and a new long flowering Geum 'Totally Tangerine'.  Brighter still is a red Dahlia 'Fire Mountain' with lovely dark leaves, amongst these tall Verbenas have self-seeded, which attract the butterflies. Last to flower is a large red hot poker with very orange heads called Kniphofia rooperi.
This has been has been our first year as a Royal Horticultural Society "Partner Garden" and we have really enjoyed meeting more RHS members. As with many of our visitors, they tend to spend a lot of time studying the more unusual plants and then come to the tea hut asking lots of questions.  As Peter is usually here as the 'meet and greet' he often gets asked some in depth questions about plants, which he has to look up in the RHS Encyclopaedia, so he is getting good training too!  In September, an extra highlight for the garden was being named as the 'UK's Best Garden of the Month' on the "GreatBritishGardens" website.  It was also lovely to share, once again, updates with our regular or fairly regular 'Garden Studio' guests.  The Studio was full again for the long season with a surprising thirty percent of our guests booking direct from Germany.
Cornwall has a suitable climate for growing ferns with lots of native species growing in our lovely lanes and I have become more interested in the unusual forms and cultivars since I joined the British Pteridological Society and enjoy growing ferns from spores. I now have to find space for all these new ferny treasures. I have also started to collect china from the Victorian fern craze with fern motifs on, and have just acquired a lovely old Spode hot water can, with gorgeous fern decorations.
The garden is now closed for the season and the end of season jobs mainly complete, with seeds collected, stock plants sorted at put in the large greenhouse, and cuttings taken. The row of Crocosmias has been moved to a circular bed to provide room for more special plants in the vacant row.  Trees have tended to dominate the winter maintenance jobs. Sadly, the Horse-Chestnut tree by the tea hut was badly splitting and the tree surgeons had to come and take it down, luckily there are some Acers there, which now have more room to grow. The Tulip Tree has also had some work done but in this case the tree is saved.
The sacks of bulbs have arrived, so I'm already looking forward to next season by planting up my Tulips and wallflowers in tubs, as well as propagating lots of plants for sale.
The seasons seem to fly by and it will soon be Snowdrop time again, there is always something to keep you going when you are a gardener.
Hidden Valley Gardens Christmas Newsletter 2018
I write this newsletter on my birthday each year while on holiday in Lanzarote – a bit older but none the wiser!  All gardening jobs now take slightly longer; there has been occasional talk of retirement at the end of some challenging days, but no action yet!  It will be very difficult to leave Hidden Valley Gardens.  The 'team' will keep us going!new season
As we all know, the extreme weather dominated the gardening year, with a cold wet winter, and snow in March, then a long hot summer with no real rain for 3 months, making it difficult for gardeners and plants alike.  Luckily we have a large pond, which is spring fed and remained below the water-table all summer.  We were therefore able to keep the pot plants in our nursery watered, along with selected garden beds.  The flower colours this year were stunning, even the marigolds put on a great show.  The temperature remained pleasantly warm for late summer with lots of plums, damsons and apples on the trees. We even had bunches of desert grapes, twelve ripe apricots and lots of mulberries.  However, the weather had the last laugh with two heavy frosts before the end of October, which destroyed hundreds of dahlia flowers overnight but gave us great autumn colour on the trees.  It has been such a joy, working in my large greenhouse with its new roof – no drips and no danger of being showered with broken glass.  Peter has yet to tot up the garden visitor numbers, but there was a good, steady flow even on the hot, sunny days, which surprised us.  The Garden Studio was full over the season – it is lovely welcoming returning guests – some insist on helping in the garden, so Peter gives them his secateurs to dead head the dahlias – very therapeutic they say.
The highlight of our year has been the two garden parties in September, one to celebrate our Golden Wedding Anniversary, and one on the 12th for the Cornwall Hardy Plant Society members (as I am standing down as chair after five years).  We had a small marquee in the garden, which I decorated with vases of golden sunflowers, yellow dahlias, and mauve asters from the garden.   The family party started in Sam's at Polkerris on our Anniversary day Sept 14th with a long Friday evening meal – it was a good choice as the children (and some adults!) could play on the beach between courses, and we had a lovely sunset over the sea.  The family celebrations continued the following day at Hidden Valley, with a lunch time Moroccan feast in the garden, with bar and an Anniversary cake.  It was lovely that the family came from far and wide, young and old (including from Switzerland and Turkey).  Three really delightful occasions to reminisce about.
You might be aware that my hobbies all centre around gardening!  When not working in my own garden, I visit and photograph other gardens, and give talks to garden clubs.  Peter is the chauffeur and technical support on these occasions, and has taken me to most village halls in Cornwall and even a few in Devon.  He also enjoys doing some promotion for Hidden Valley Gardens and hands out our garden leaflets.  To improve my photography, I have booked a local photography course for six weeks starting in February, which I am greatly looking forward to.
The other exciting news is that we have been asked by the RHS to be one of their "Partner Gardens" next year, which will enable more visitors to seek us out.  We will be the fourth Partner Garden in Cornwall along with Caerhays Castle Gardens, The Lost Gardens of Heligan, and Trebar Garden.  We clearly must keep the standards high – should I start to worry now?!
The birds and the bees.  We try to encourage the wild life to our garden and this year has been very good for bees, our Origanum and Solidago have been smothered with bees for most of the summer and we have seen more butterflies this year.  We have lots of different birds on our bird feeder, but there is one very cheeky Robin, who likes to come into the house when he smells me cooking the cakes for the tea hut in the morning.
Apart from our end of season rest, swim and fun holiday in Lanzarote, we did get away a couple of times; in the late spring we followed up our 2017 autumn visit to Menorca in order to see the Island flora at a different time and in late summer after the September parties, we did a short tour of Dorset and Somerset gardens (more photos), staying in a hotel to be recommended in Evershot.
Looking forward to next season in the garden and seeing my snowdrops in February.  We have also booked to go to the Hardy Plant Galanthus study day in Somerset, which should be fun.
Have a lovely time over Christmas and New Year,
Tricia
Hidden Valley Gardens Christmas Newsletter 2017
We have now been at Hidden Valley eighteen years, time flies when you are enjoying yourself! We also realise it is our golden wedding next year, so maybe a garden party to plan.
This year the garden has been rewarding with lots of seasonal interest, and the Penstemons and Salvias particularly did well and I have just planted a new ornamental grass bed in one of the annual circles. We have got to the stage where it's almost a problem to find a gap for any new plants I have acquired! Peter has however forsaken a row or two of his fruit to give me more space. To keep up with the ongoing maintenance, we have needed to replace our oil tank, put new wooden boarding around the potager, and, the biggest job (ignoring weeding), the re-roofing of the large greenhouse. This commercial sized greenhouse (27ft X 45ft) had a glass Dutch lights roof, where the large panes had started to slip down into the gutters, making gaps to let the rain in. They were also in a dangerous condition. Not a place to do potting in a winter storm! We have now replaced the glass on the roof with 24 large polycarbonate sheets, 5 metres long, across the top of the structure and remade the windows. I am so relieved it is mended. At last it is a safe, dry place to work in. As a result, I now have great plans to propagate lots more of the plants for my nursery sales next year.
Last winter, we have had a Veranda built outside the West Wing, which we no longer let to guests. It has been great returning from the garden at the end of the day and sitting down on our sun-loungers, perhaps enjoying a drink before dinner (!) and watching the birds on the feeder or the baby swallows sitting with us. It is ideal as we leave our sun loungers out now without fear of them getting wet. It is also perfect for a new collection of Aeoniums in pots (and other plants!).
I have always loved ferns and Cornwall is an ideal place to grow them. I joined the Pteridological Society (Fern Society) in 2014 and starting collecting ferns and growing them from spores. I have also been researching the Victorian fern craze, to add to one of my talks, 'Introduction to Ferns', which I give to local garden clubs. North Devon was a hot spot during the fern craze and we spent a couple of lovely days in Barnstaple with friends, looking at the collections of fern motifs on china, glass, pottery, and wooden boxes at the museum there. We also went to a churchyard in Ilfracombe, where ferns were carved on grave head stones and walked along the lush, ferny, East Lyn Valley to Watersmeet.
Earlier this year, Beryl Harding (who was chair of the Cornwall Alpine Society for many years and active horticulturalist here in Cornwall) asked us to relocate her snowdrop collection at Hidden Valley Gardens, as it was her wish that they could be seen by Galanthophiles for years to come. We still have to check some of the names, but will be open by appointment during February, for anyone wishing to view the snowdrops. This also has encouraged me to photograph more snowdrops and I have just completed a talk about Galanthus and the winter garden for local garden clubs, while on holiday in Lanzarote.
In September we were filmed for the BBC programme 'Garden Rescue'. They wanted to use us as an 'exempla' garden for colour from late summer perennials, which can be replicated in the garden being 'rescued'. Filming took over 4 hours but will probably be no more than 5 minutes on the TV next August/September.
Each year, we have many lovely Garden visitors who live locally or much farther afield. It is very interesting talking (when we have time) to many different people from all over the world who come to visit the garden. One very jovial visitor from TV was Tim Wonnacott, the past presenter of BBC Bargain Hunt and his wife. They seemed to be having a good time and went away with a car load of plants. Also we have lots of group visits from various garden clubs around Cornwall which usually involves more cake baking.
Caroline, Jo, Shirley, Andrew, Mike (semi-retired) and Lee are still part of our Team at Hidden Valley Gardens, but Wendy has had to return to New Zealand for a year or so. We have however been joined by Matthew, Campbell and Stephen, and this is helping us with our semi-retirements plans – although these plans are still a long way off, we have, at least, managed to get away for several breaks including visiting gardens in South Wales and exploring Minorca for the first time.
Season's Greetings from,
Tricia and Peter
Hidden Valley Garden Christmas Newsletter 2016
It was another very wet but mild start to the year,  with winter springs flowing all over the lower half of the garden, making it difficult to get on the ground. The daffodils were early, but then we had a slow, cold spring, although the apple blossom was out by 11th May (photo).  However the summer was good with just the right amount of rain to stop plants drying out, although in August we had a storm and as a result of the wind and rain on the leaves, half of the giant 200 year old Oak tree came crashing down, mainly into the pond. We had to get in the tree surgeon and the tannin from the oak wood turned the pond water black for a few days. It has been great with many returning and new garden visitors, although August was less busy with fewer children, probably because the high number of good beach and coastal walking days. Late summer and autumn has been gorgeous with many sunny days encouraging the late summer perennials to put on a lovely show. When we closed the Garden on the 15th October we still had lots of flowering Dahlias, Asters, Anemone, Rudbeckia, tender Salvia and Kniphofia (photo). One visitor's outstanding comment in this period from a German couple who had just come over from France – "We have just been to Monet's Garden which was lovely, but this is so wonderful". The rabbits, deer and of course the weeds have continued to be a nuisance, and the large old greenhouse needs constant attention, but we are so lucky to live in such a magical place , with the bird songs, butterflies and seasonal delights of the garden.  We are pleased the garden continues to be enjoyed by the visitors, and it's great to have an enthusiastic garden team which this year has been joined by Wendy and Joe (and her helpful girls).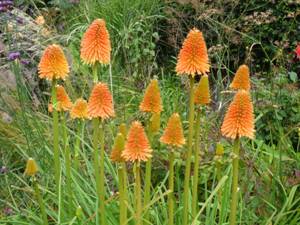 On a sad note, my mother Olive Gale passed away aged 93 years in February, after a long, slow decline. She had been a widow for 3years and she bravely continued to live in her own home while battling against deteriorating health. I inherited my love of gardening from both my parents and grew up in a large garden in Surrey, with lots of happy memories. Dad also loved cementing and made his own paving slabs long before they could be bought, also he like making concrete mushrooms using a metal domed dustbin lid for the top mould and two drainpipes fitted together for the stalks, smaller ones where made with a beach ball cut in half (photo). The family all have examples of these in their gardens. Mum and Dad helped us when we first moved to Hidden Valley giving us much needed encouragement and practical help. Their ashes are with us here in the Primrose garden.
We are both seventy now and have decided to cut down a bit. To this end we are not letting the West Wing any more to our guests and using it as part of the house. We are also having a Verandabuilt outside where hopefully we can have some sitting time! (Sorry to all our regular West Wing guests, but we will continue to let the Garden Studio.)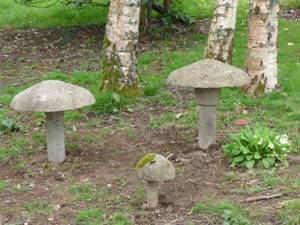 In May we were invited to a garden party at Buckingham Palace because of Peter's charity work for MIND – a real treat to see the Queen's garden and an honour to be invited (photo).  Luckily this coincided with the Chelsea flower show and we had the joy of spending the next day at the show, then travelling home in style with dinner on the train.
We try to get out on our days off and are very lucky here in Cornwall as it is an exceptional county for great historic houses sited mainly in the valleys that lead down to the south coast and built in 18th and 19th centuries with the wealth of the mining industry. Most have wonderful gardens, where sponsorship of plant hunting in Victorian times was a familiar trait. There are seventy five such great houses in Cornwall, unfortunately not all are open to the public, but many we are able to enjoy. We were lucky to find our own valley when exploring Cornwall for a site to develop ou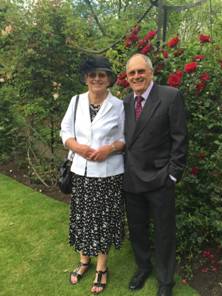 r garden.
I made a mistake with one of the weekend  National Garden Scheme charity days on 4th 5th June andI was double booked with a stall at the Tregrehanrare garden plant sale, so I was not here to help with the teas on the Sunday. Also, we could not believe it when the electricity went off for a period (once again) on the Saturday when we were serving teas. Luckily with help of friends we managed and made over £1000 for charity. Peter did, however, look tired!
As always I'm already looking forward to the next gardening year, with new projects and lots of seeds to sow. My latest love is growing ferns from spores and I have plans for a new fern area, near the house. Have a Happy Christmas and an enjoyable New Year.
Tricia Howard
Hidden Valley Gardens Christmas Newsletter 2015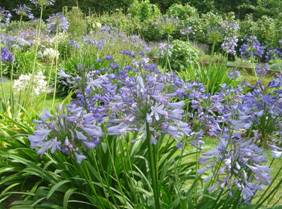 It has been a good growing year at Hidden Valley, although we had a long dry spell in the spring.  The primrose garden was in its second year and completely full of flowers.  The colourful herbaceous borders and annual beds performed well.  Our Agapanthus were fantastic with so many blooms in shades of blues and white (photo) and the Autumn bed was brilliant in the many warm sunny days of September and October.  Peter removed more of his blackcurrants last winter in order to double the size of this Autumn bed.  All the trees and shrubs definitely got much larger this year, so there was much pruning to do.  It is really enjoyable having visitors to the garden who take great interest in the different planting and plants.  A new permanent 'visitor' to the garden is the Mermaid of Lamorna, who is said to sit on Mermaid's rock at Lamorna Cove combing her hair and luring fisherman to their deaths.  She is hand carved from granite by a local sculptor Karl John Williams.  As well as our usual garden openings, we have had several charity days, one of which was for the Children's Hospice.  Although we were lucky with the weather on that particular day, the electricity unexpectedly went off in the middle of serving cream teas.  It turned out to be a contractor cutting the hedge up the lane. He had demolished two electricity poles!!  Luckily we managed to get hold of a generator to boil the kettle which saved the day.  Next year there is an extra charity event from 14th- 21st February when we will be open as part of the National Garden Scheme 'Snowdrop Festival'.  Although I do not have great swathes of snowdrops, I do have about fifty named varieties in the garden.
Cornwall is of course well known for its early daffodils and as well as collecting snowdrops, I have been building a collection of daffodils (photo) including some of the historic varieties.  Cornwall has lots of daffodils shows and 'The Cornwall Garden Society' has a really good spring show at Boconnoc near Lostwithiel where you can enter a variety of classes.  I won a few prizes this year with some daffodils, so I think I am hooked and have planted more varieties this year (but don't tell Peter).
We enjoy getting out and about in Cornwall in the quieter months and sometimes we give illustrated talks to garden clubs.  I have to plan my next two talks and now I have a new super camera to take the photos.  I have had to join the local Wednesday camera club to learn how to use it.  Luckily it does not clash with the Cornwall Hardy Plant Society meetings (1st Wednesday in a month) which has had a very enjoyable and interesting year of meetings and outings.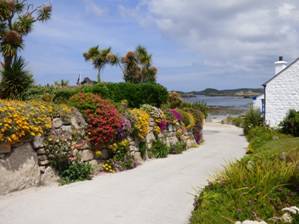 In June we had a lovely break in the Isles of Scilly staying at the Hell Bay hotel on Bryher.  The islands are really magical with their mild climate, white sandy beaches and crystal blue water.  I was bowled over by the huge clumps of brightly coloured lampranthus, gazanias and pelargoniums tumbling from cottage granite walls with abandon (photo).  Also there were naturalised Aeoniums everywhere, a succulent with large yellow cone shaped flowers covered in bees.  Agapanthus were just starting to bloom, and I was surprised to see them naturalised on Tresco in the sand dunes.  Of course we visited the botanical gem of the Tresco Abbey Gardens which was looking particularly good and I was delighted to see red squirrels running about in the trees.  I also visited Church Town flower farm on St. Martin's and ordered some scented Narcissi which should arrive shortly for Christmas.  Throughout the islands there were little road side stalls where you could buy fruit, vegetables, and, of course, bulbs!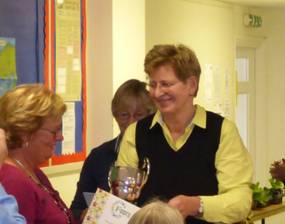 This summer I was asked to judge the "Fowey in Bloom" competition. This was quite a task as there were about forty gardens with ten different classes, as well as the commercial premises with their hanging baskets and containers.  It was a privilege to meet the owners and to see the diversity of the gardens, many with wonderful views of the sea, river and harbour.  Later in the year we had a pleasant evening when I handed out the cups (photo) and gave an illustrated talk of 'My Favourite Flowers at Hidden Valley'.
We continue to be supported by our loyal staff.  Lee has joined the garden team and Jo has been helping with the self-catering accommodation.  Carolyn, who helps everywhere, has had to have a hip replacement this year  She is now back at work but will probably need to have the second one done at some point.  I have had my second knee replacement.  They were well tested recently walking in the mountains on La Palma whilst searching for ferns and other plants to photograph. They performed ok, so now I am sowing seeds that may take 3-4years to flower – not retiring yet!  There is always so much to look forward to in a garden.
Happy Christmas, and have a great New Year especially in the garden
Tricia.
Hidden Valley Gardens Christmas Newsletter 2014
Our three acre garden is now 14 years old, and has begun to have a mature look.  I recently was very pleased to find lichen and mosses growing on the stonework on the well and gazebo.
After the very mild winter and good growing season this summer, everything has put on plenty of growth, so there is lots of pruning going on at the moment, to redress the balance.  We did get some damage from the winter storms.  It was the first time that hurricane gusts had penetrated the garden and we lost the 'Golden Gauge' fruit tree (which Peter has now replaced with a bare rooted tree) and several panes of glass from the large greenhouse.  However, we got away lightly compared to some in Cornwall, Devon and Somerset.
In the spring we renovated the 'Hot Coloured Border' by taking out a conifer, and some shrubs which had grown too large and made the whole border a foot wider.  This gave room to plant an Embothrium coccineum my favourite spring flowering tree with scarlet red flowers, and Rosa moyesii  'Geranium' which as well as the single dusky red flowers has amazing long orange-red hips in the autumn.  We then thinned out the Crocosmia and added some Miscanthus napalensis with gorgeous silky tassels, in late summer.  To finish off I filled in the gaps with some annuals, the four foot high Tagetes  'Cinnabar' (see photo) with its deep rusty red flowers edged in yellow,  Rudbeckia 'Rustic Dwarfs' in burnt orange tones, Rudbeckia triloba and some deep red sunflowers.  Along with the Dahlia 'Fire Mountain' and the many Heleniums this made a really exuberant show.
At the beginning of April Peter encouraged me to enter some of the herbaceous classes in the Cornwall Garden Society spring show which is held near here at Boconnoc.  I found it much fun selecting some of my favourite primroses to enter and was delighted to win three firsts and the best display trophy cup (see photo) for three primrose plants in a container.
Again we sowed annuals in three circular beds in the lawn, with mainly wild flowers and lots of red poppies, (see photo) in remembrance of all those who died in the Great War.  These were much admired by our visitors and attracted lots of insects.
In July we both enjoyed a short break to visit the Hampton Court Flower Show, including Sissinghurst and the RHS Wisley Gardens.  It is always enjoyable to see the stunning displays created by leading growers and different garden styles.  There were also many opportunities to buy desirable plants, and garden products.
After some rain at the start of August it was a lovely month in the garden with masses of colour and lots visitors with children doing the Garden Quiz. Interestingly, at least 10% of visitors were from Germany or the Low Countries.   September and early October were also great months when the weather was wonderful and the new Autumn bed was stunning with Helianthus, Grasses and all the new Asters purchased at the Picton Gardens (who have the national collection of Asters) on last year's CGS Tour. (see photo)  These months were also dominated by a great fruit harvest, mainly raspberries, plums, damsons and apples.  Peter had to use the olive picking method for the damsons (put down a large sheet and shake the tree).  Even the vegetables performed well, especially the Sweet Corn.
One evening in September we put on our posh evening wear (see certificate with photo, but Peter's shirt was white, not blue!) and attended the Cornwall Today (magazine) awards dinner for Cornwall best businesses, at the Headland Hotel Newquay.  We had been nominated for the Best Garden category along with three great gardens: Trebah, Lanhydrock, and Lost Gardens of Heligan, which was a great honour.  The Lost Gardens won Best Garden and we, along with Trebah and Lanhydrock, were highly commended.  We would like to thank all those who took the time to vote for us.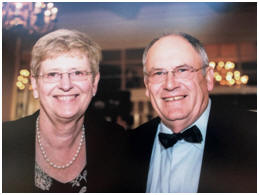 In many ways it has been one of the best summers in the Garden and our visitor numbers have continued to rise year-on-year and therefore it was the highest number of visitors yet over the season.  Also it was great to see so many returning garden lovers staying in the Garden Studio and West Wing, plus some new friends staying for the first time.  In fact the accommodation was full from April to October.
Unfortunately after many years of gardening, both my knees have worn out, and I had one replacement in July and am having the second one in February.  This has obviously curtailed a lot of my gardening this year, but I hope to be back to full duties in garden by May next year.  Peter has been marvellous looking after me, the garden, nursery, household duties and even gave one of my talks to a garden club for me.
Happy Gardening in the New Year and hope to see you soon.
Tricia Howard
News Letter for 2013
After a slow start, because of the wet ground, and cold spring, the Garden has now recovered and is bursting with flowers. The year started in February with my collection of snowdrops which are bulking up nicely, one I particularly like is called 'Grumpy' with its inner green markings looking like a sad face. The snowdrops were followed by some lovely single and double Hellebores.
In a shady spot we have the new primrose garden; this is planted with other shade loving plants such as Pulmonaria with their attractive spotted silvery leaves and flowers in shades of purple blue and white. There are also many ferns which love growing here in Cornwall. The primroses started to flower in March and continued into May with some unusual Barnhaven seed raised plants I grew and other old and new varieties in delicious colours. We held a special primrose week and had many primroses for sale, as a bonus our Cornish lane was also full of wild primroses at the time.
We planted more tulips last year for early colour and I especially liked the Tulip 'Stunning Apricot' with the marmalade shades of wallflowers, and Tulip 'New Design' with pale pink flowers and leaves edged in white in the Mediterranean garden, against the grey foliage.
The fruit trees gave us a great display of blossoms starting with the Damsons and progressing through to the apples, the lack of bees is worrying, but we seem to now have a good supply of bumblebees, and some of the fruit has set.
The early flowering self-sown annuals, forgot-me-nots, poached egg plants and love-in-the mist are making a lovely show but their space is now being taken over by the perennial herbaceous planting, such as our columbines which are flowering at the moment. We have many varieties including doubles and some with very long spurs in many different colours; I must soon dead head them leaving only the best to seed.
Despite the wet winter, seventy nine off the eighty dahlias left in the ground are growing strongly, so we look forward to a colourful display. Our lane had masses of bluebells and as I write this newsletter it is the turn of the pink campions and foxgloves to put on their display.
July sees the collection of Dahlia, Crocosmia, and Agapanthus developing their full blaze of colour which will continue through the summer and into the Autumn as the herbaceous plants take their turn to show their beauty.
In August we have our special opening for the National Garden Scheme charities (Mon 12th Tue 13th and Wed 14th) where the garden and cream teas are enjoyed by all, with many plants to buy.
The favourite plants purchased in the nursery this season have been the special Primroses, Agapanthus 'Taw Valley' and 'Northern Star' and Anthriscus sylvestris 'Ravenswing' a dark leaf cowparsley (also the favourite this year at the Chelsea Flower Show).
Lots of other plants will take their place on the plant sales favourites list as the season progresses.
For the very latest news you can now follow us on Twitter @hiddengardens
Tricia Howard
News Letter from 2012 and Plans for 2013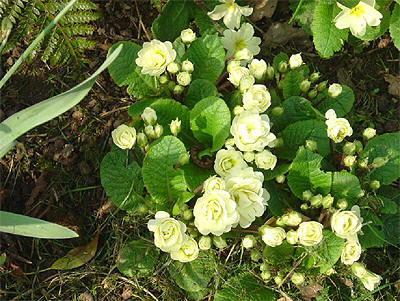 After a wet summer, we are now having a very wet autumn. Even my large greenhouse has several inches of water inside and the whole garden is oozing with water. So now is the time to keep off the land and catch up on those other jobs. I am going to update my plant database, treat the sales tables and garden furniture with preservative, work out which nursery stock I need to propagate for next year, and sort out my garden photos, hopefully! The bad weather has affected the visitor numbers in our garden this year and also some of the flowers were late getting going with the lack of sunshine. However we still had a rewarding season with lots of colour, especially from the Dahlias and Agapanthus. Unsurprisingly the Alders and swamp cypress are doing really well!
Despite the weather we had lots of group visits which means I have to make lots of fairy cakes for refreshments. It's a pity the fairies don't make them, as baking in quantities can take up valuable time. However, they do go down really well with the garden visitors who do like their cake and cup of tea.
Recently I have been creating a new shady area at the bottom of the garden mainly to display a collection of primroses, and more ferns. I have grown some of the famous Barnhaven primroses from seed (see photo).
These seed strains are so special with an old fashioned character and diversity of subtle colouring, fragrance and hardiness. The seeds are now developed in France by a dedicated team and there are lots of different types of primrose seed from which to choose. I am looking forward to seeing the flowers. I will add some snowdrops and a few hellebores. The area, to be called the 'Primrose Garden', is screen off by some hazel hurdles with the entrance through two large granite posts. The posts each weight more than 2 tons and were raised from horizontal to vertical very slowly by Peter and his trusty helper using the 'Stonehenge method' – 100 blocks and levers. This development is part of the exciting developments in the Garden during 2013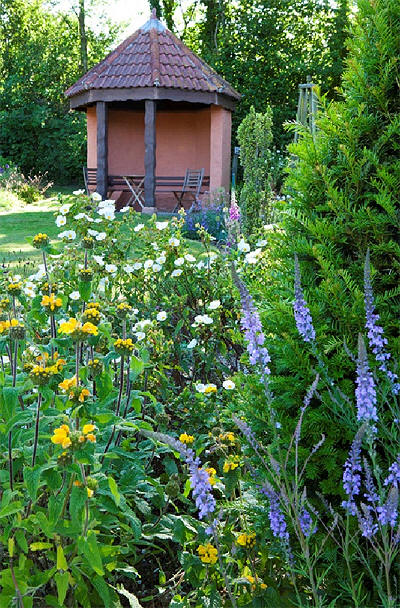 Some of my favourite flowers are Astrantia they are so dainty in pinks and white with a little ruff of bracts around the pin cushioned shaped heads and they are long lasting. I am trying two new ones this year Astrantia: 'Star of billions' with a multi head and Astrantia 'Roma' a sterile hybrid in deep pink. I will also be trying some Echinacea including 'Fatal Attraction' which I saw growing well on one of my garden trips. These will be at their best in 2013
Caroline, who works for us, has taken on the role of wildlife officer and is researching ways to make our garden even more wild life friendly. We hope to add more nest boxes and have an information leaflet available. Again we are opening for the Wild Life Trust on Tuesday 30th July 2013, please note this is a day when we are normally closed.
Our self-catering accommodation is still popular with garden lovers and we even got a mention in the Times newspaper under the heading of "20 UK best places to stay with gardens". Also there was an article about Hidden Valley in the August edition of the R.H.S magazine 'The Garden' with photos taken last June by Marianne Majerus, who recently achieved international garden photographer of the year. Some of the photos are also in a new book about Cornish gardens for the German market (see photos).
Our National Garden scheme days in 2013 are on Mon 12th Tue 13th and Wed 14th August when we will be serving cream teas as usual and there will be lots of interesting plants for sale
In 2012 the Cornwall Tourism Board has added short videos to their "VisitCornwall" web site. The short video of gardens to Heligan and Hidden Valley Gardens – you can also see this using the following link:  http://www.youtube.com/watch?v=yadF9dJLkFM
Tricia Howard
Hidden Valley Gardens Summer 2012 Newsletter
It has been quiet a challenging start to early summer, with extra helpings of wind and rain. Fortunately we have a shelter belt of trees around the garden so not much damage has been done. We also have had an influx of rabbits who nibble all new shoot.  We have had to net our sweet peas, runner beans, and dahlias.  However we also have foxes so perhaps nature will help keep the rabbit numbers down.
Some visitors find it quite an adventure travelling down our flower filled Cornish lanes and are relieved to finally reach the last bend and see our Name sign at the beginning of our drive. We have just replaced the old wooded sign with a granite one; it fits in nicely with a country feel.  We chose the granite slab from a reclamation yard, and had it carved by a monumental mason, and the lettering picked out in deep green, so look out for it next time you visit.
Despite the weather we have had lots of group visits so far, which means I have made lots of fairy cakes for their refreshments. It is a pity the fairies do not make them, as baking in quantities can take up valuable time, but they do go down well with the garden visitors, who like their cake and cup of tea.
We garden in a natural style here and let a lot of plants self-seed but it is a deceptively labour intensive way as it involves a lot of hand weeding to keep a good balance.  At the moment the Linaria purpurea in mauve, white, and pink is looking good with their tall spires waving in the breeze.  I just let the pink and white seed and still get some of the more dominate mauve to keep a good colour mix.
Caroline, who works for us, has taken on the role of wild life officer and is researching ways to make our garden even more wild life friendly. We hope to add more nest boxes and have an information leaflet available.  We are also opening for the Wild Life Trust on Tuesday 17th July, please note this is a day when we are normally closed.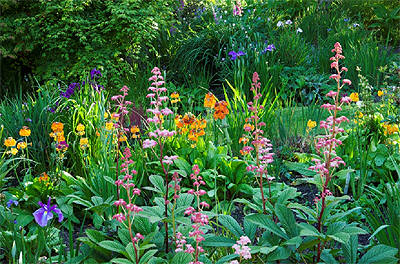 Our self-catering accommodation is still popular with garden lovers and we even got a mention in the Times newspaper under the heading of "20 UK best places to stay with gardens".  Also there will be an article about Hidden Valley in the August edition of the R.H.S magazine 'The Garden' with photos taken last June by Marianne Majerus, recently achieved international garden photographer of the year.  Some of the photos will also be in a book about Cornish gardens for the German market coming out in the autumn,
Unfortunately as the bee keeper has retired, the bee hives which we had in the bottom corner of our garden have gone, they have been relocated to a good home nearby.   I think a lot of the bees still return to the garden.  This has created an opportunity to develop some new planting.  As it is a shady corner we are going to extend the fern collection and also plant many different types of primroses which do so well in Cornwall.  I am at the moment pricking out some Barnhaven primrose seedlings I have grown.  These seed strains are so special with an old fashioned character and diversity of subtle colouring, fragrance, and hardiness.  They are grown in France by a dedicated team and there are lots of different types of primrose seed from which to choose.  To screen this area from the compost heaps we are putting up some hazel hurdle fence and have purchased two rugged granite posts to have as an entrance way.  We just need to find someone to help us move them!
This year the Cornwall Tourism Board have added short videos to their "VisitCornwall" web site. The short video of gardens to Heligan and Hidden Valley Gardens – you can also see this using the following link:  http://www.youtube.com/watch?v=yadF9dJLkFM
Tricia Howard July 2012
Hidden Valley Gardens Newsletter, Christmas 2011
It has been a good growing season here in Cornwall.  Apart from April, when it was hot and dry, we had just enough rain for the plants to thrive and not too much to keep the visitors away.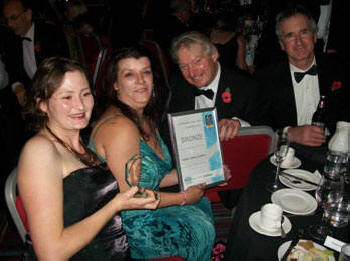 It was also a bumper year for fruit and berries after the hard winter, but mild spring with no frost in April. Our fruit trees really got into their stride and presented us with loads of gages, plums and apples. Some of the excess apples have gone away to make us some apple juice and cider. But we only had a few cherries despite thousands on the trees – we had some very fat birds in the garden!  We have a eight year old walnut tree. Last year we were thinking of giving it the 'cut' but it heard about it and produced one walnut.  This year we had well over 100 walnuts! We tried pumpkins for the first time and put two plants on top of an old compost heap and left them to their own devices – we were rewarded with 21 large pumpkins and we are still eating pumpkin soup! Even the holly trees in the surrounding countryside are covered in berries for Christmas and the bryony berries are like orange necklaces hanging in the hedge rows.
We were both 65yrs in November and, although we are getting a bit creaky, we hope to keep gardening for a number of years with support from our helpers. In my case with help from my osteopath!
Now my husband Peter has finally retired he does my marketing and public relations in an enthusiastic way, which has made a real difference to the visitor numbers and plant sales both of which have increased. This year the garden won the Cornwall Tourism 'Bronze' award for the "Small Tourist Attraction" category (there are no 'garden' only category). As we were away on our winter break some of our 'helpers' went to the award ceremony at St Mellion International Hotel and Golf Club to collect it for us (see photo above)
Last winter, I started a new bed for early spring interest by clearing some old shrubs away (see photo). We have put in several Acer palmatums, under-planted with small bulbs including many named snowdrops, which I have been collecting. There are also hellebores and different forms of primroses and pulmonaria. I am greatly looking forward to seeing all the flowers this spring.
Another project this year has been to make a water feature at the end of the plant sales area for shade loving plants. We had to get rid of some ugly redundant plastic water tanks first and enlarge the wooden shade canopy.  A semi circular raised pond was then constructed with a back wall containing a gargoyle which spouts water with the help of a solar pump. All the water initially comes from the house roof. I hope to display some water iris here and perhaps sell some water plants.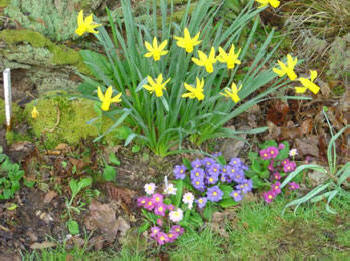 In addition to the plant variety and colour from the various themed gardens within the garden, the display/propagation collection rows again produced a mass of colour through the summer and into the autumn.  The dahlia collection has become a firm favourite with the visitors with many studying them in great detail.
We have a lot of German visitors in Cornwall and at our garden because of the popularity of the Rosamunde Pilcher novels, which are romantic stories set in Cornwall. There are film versions of the novels on German television. While in Cornwall the German tourists like to visit gardens and a Cornwall garden guide is now being written in German and we hope to be featured in this.  Marianne Majerus (International Garden Photographer of the Year, 2010) stayed with us overnight in the summer to take some photographs of the garden in the early morning for this book. We may have more German visitors in the future!  We also had some filming commissioned by Visit Cornwall under the theme 'Big & Small' – the garden section part of the film is Heligan and us.  One of our regular visitors was particularly excited to become a 'film star'. Look out for the results, coming soon on  www.visitcornwall.co.uk
As well as our perennials, we always grow some annuals as fillers.  This year we grew mallow (Lavatera trimestris) in white, it really is easy and makes a lovely show, the pink form 'Silver Cup' is also very good. Another annual we would not be without is Cosmos bipinnatus, which has fine ferny leaves and dainty open flowers in many shades of pink or white. Both these annuals flower for a very long season.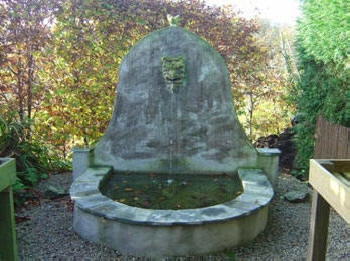 Unfortunately our neighbours Escallonia hedge along our entrance drive has died and it looks such a mess, also full of bind weed and ivy. Escallonia can be short lived, especially in wet soil, so, as a joint effort with our neighbours; it is being replaced with beech over the winter. It will look great in the future, but it is quite a job as it is 150ft long.
We were lucky with the weather for our National Garden Scheme three open days in August and raised more than a thousand pounds. The visitors kept me very busy making and serving cream teas and cakes. Because we had so many people on the Sunday, we have decided to open on Monday 13th, Tue 14th, and Wed 15th August 2012 in the hope this will spread the visitors out more evenly. Another busy time was the Daphne du Maurier Festival in May. In 2012 (10 days from 10th to 19th May) we will also serve cream teas.  (At other times we still have our self service tea hut with home-made cakes but remember, apart from the special events, we close on Tues/Weds so we can go out!!)
I hope you have a great 2012, and happy gardening.
Tricia Howard Dec 2011